Clock Rewinders on a Book Binge is where Tara @ 25 Hour Books and Amanda @ On a Book Bender shamelessly plug each other, share the fantastic posts, giveaways, or whatever else we've found and loved by other awesome bloggers (or authors!) during the week, and talk about the books we plan on reading in the coming week.
Pages of Forbidden Love Recap:
Alexa Reviewed: Destined
Tune in Tuesday (8) With Bianca
Johnny Reviewed: Princess of Mars
Waiting on Wednesday (26) With Alexa
Alexa Reviewed: Fifty Shades of Grey
Alexa Reviewed: Fifty Shades Darker
Ashley @ The Bookish Brunette Reviewed: The Madness of Lord Ian Mackenzie
Alexa's Life:
Not a whole lot to report but there may be a new blog design in the works… just saying!
Around the Book Blogging Community: 
~ Amanda @ On a Book Bender was kind enough to have me do a post and giveaway for her Blogoversary!
~ I reviewed Anna Dressed in Blood over at Ashley @ The Bookish Brunette's Blog for our Pages of Bookish Love feature.
~ The lovely Erica @ The Book Cellar featured several of her favorite bloggers in a post,  Book Bloggers That Rock … I was lucky enough to be included!
Sign ups are still open for Bout of Books Read-a-Thon!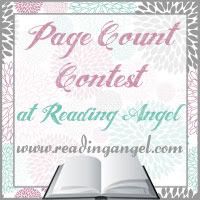 Sign ups just started for Reading Angel's May Page Count Contest! 
Stephanie @ Once Upon a Chapter is starting her own feature to reduce her TBR pile, she is calling it Operation: TBR Reduction and you can join her!
Books We Received:
Please be aware that showing off books is only a small part of this feature! This feature is a way to showcase not only what has been happening all week long on Pages of Forbidden Love but also showcase other bloggers and regular life activites.
I know you can all read, since we are book readers, that the title of my Clock Rewinders post this week is Replacing the IMM Feature. I had actually been looking at Clock Rewinders posts for several weeks before the DRAMA happened! I was already thinking about switching over to this meme because I always want to do recap posts and spread the word about great blog posts I read all week long but I never am motivated to do this. So this feature allows me to get motivated to make this type of post happen. I do hope you enjoy the fact that I decided to make this switch for several personal reasons.
*Please note that the video this week does express our concern about the DRAMA and that it is easy to just link up a person instead of copy and pasting their posts. I'm not going to get into the DRAMA, I'm just going to say I'm no longer doing the IMM feature, our books received video will now be a part of Clock Rewinders, unless I hear from Amanda or Tara that this is not allowed. I simply feel that linking or giving credit is not hard to do, copy and pasting from someone else is wrong. No disrespect to The Story Siren is intended.* 
Awesome People Mentioned:
~ Amanda @ On a Book Bender
~ Tara @ 25 Hour Books
~ Elodie @ Once Upon a Quote
~ Ashley @ The Bookish Brunette
~ Loretta @ Between the Pages
~ Amy @ My Overstuffed Bookshelf