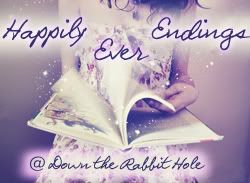 Happily Ever Endings is…
"Happily Ever Endings… was born out of sheer frustration. You know how when you read a series and you love it but the last book takes a little while to come out and then you sort of forget parts of the novel? That's what these posts are going to serve to remedy. Happily Ever Ending… is a short post about what happened at the ending of each book that is going to be in a series for people who need a quick reminder of what happened in the previous installment. I hope this saves someone else the frustration that I went through!"
~ Amber
All of Exiled has lead up to what Chase's dad wants to do to the world. Basically his dad wants to control the demon world! If he can control the demon world then he can make sure that no demon will ever harm people again, unless he wishes it of course. In order to open a sealed portal between the regular world and the demon world, blood of a person from both worlds needs to be used. It just so happens that the blood that will activate the portal belongs to Rayna.
Chase's dad uses Rayna's blood to open the portal which he then goes through in order to go invoke the god of all of the demons. He needs this power in order to take control of the demon world, to become better than any hunter that ever lived. While he is on a powertrip, Chase managed to make it through the portal right before it closed. He ended up on a completely different side of the demon world though and must make his way to his father before it is too late.
This is where Chase meets Tiki, who helps him get to his father, there is help from some demons along the way. As soon as Chase arrives at the entrance to the cave where his father has to perform the ritual he wants to go barging in. Tiki decides to assist him with this and they go 'storm the castle'! Of course this doesn't completely work out for them and soon the bad guys, ie his father and warlocks have the upper hand. This upper hand changes when Chase's mom comes to the cave with Marcus. Marcus and Chase's mom start to battle with everyone in the cave but it is too late because Chase's dad has already completed the first step to invoking the powerful demon, some of the demon's power now rests in Chase's dad. Chase, Tiki, Rayna, and Marcus manage to make it out of there in time only to find that Chase's mom lays in Marcus' arms but she is no longer alive.
At the very end of the book they are all back at Marcus' place in order to start to heal their wounds but Chase knows it won't be an easy task for him. How do you cure the fact that your own dad killed your mom in a battle. How do you live without the one person who was beside you for your entire life? It certainly isn't going to be easy to watch Chase struggle in the next book in the series, Shift.