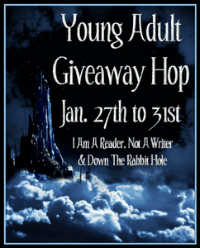 First off I would like to thank Kathy @ I'm a Reader, Not a Writer and Amber @ Down the Rabbit Hole for this great giveaway hop.
This hop will run from Jan 27th (as soon as this post goes up) to 11:59 pm Jan 31st.
 Now I know you want to see exactly what I'm giving away!
Well I'm giving away one hardcover copy of Anna Dressed in Blood to one lucky winner!
This giveaway is for US entries only! Sorry, I normally make it International but I have an extra copy of this one and can't pay overseas shipping.
To enter please fill out the rafflecopter form.
Please note that since GFC is going away for WordPress blogs in a month, following by GFC does not gain you an extra entry. You can however sign up for my RSS feed or through email. Or you can follow all Pages of Forbidden Love updates on Twitter.
Don't forget to check out the bottom of this post for all of the other amazing blogs on this hop!
(If you can't see the form please click on the bottom of the post where is states Read the rest of this entry)