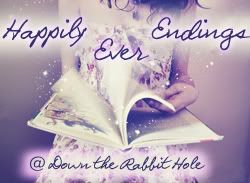 Happily Ever Endings is…
"Happily Ever Endings… was born out of sheer frustration. You know how when you read a series and you love it but the last book takes a little while to come out and then you sort of forget parts of the novel? That's what these posts are going to serve to remedy. Happily Ever Ending… is a short post about what happened at the ending of each book that is going to be in a series for people who need a quick reminder of what happened in the previous installment. I hope this saves someone else the frustration that I went through!"
~ Amber
Today's Happily Ever Endings book is Angel Burn by L.A. Weatherly
Willow and Alex have driven to New Mexico in order to see Cully, the man who trained Alex, in order to understand what has happened with the other Angel Killers. Cully is suppose to help them understand how angels have taken over the CIA angel project. Well when they do finally get to where Cully is he has already been ruined by angel burn, he no longer wants to kill angels, he wants to embrace them. This means that Cully calls in angels as back up to take Alex and Willow in.
After Willow helps Alex kill the angels they set out on the road again until they come to a cabin in the woods. Willow and Alex spend some quality time in the cabin bonding. They are finally able to advance along their relationship, until their cabin is overtaken by CIA. The two agents from the CIA are the only people left from the original angel project that ran the angel killers! The CIA explains to Willow and Alex that they have to come with them in order to stop the second wave of angels from entering Earth. At this point Willow goes with them while Alex stays behind because he can not stand to lose another loved one.
Willow is all set to lose her life in order to help the CIA stop the second wave of angels. She is at the point where she is going into the church in order to use the stone to seal the gateway between Earth and the angel's world. Her attempt fails and the angels get into the church with a big explosion that causes Willow to be knocked out. It is lucky for her that Alex has driven all the way to the church in order to save Willow in time. He transfers some of his life energy to her so she will survive.
As Alex and Willow are leaving the church, they get stopped by the head angel who announces that he is Willow's father. The man behind the second wave is the man who produced Willow and sucked the life out of her mother. Unable to do anything about him except stun him, Willow and Alex have to leave in order to go to a motel several cities over from the church. Their plan is to head to Mexico and look into starting up another camp for angel killers there.
I hope this helps some of you remember what happened in Angel Burn, just in time for Angel Fire which released just a few weeks ago.