We have a new feature here at Once Upon A Chapter, but we need YOUR participation to make it work!
It's called Show Us Your Shelves! and the goal is to feature the book shelves of all our readers! It can be video, pictures…any way to show off your collection! If we can get enough participants, we hope to have this on the blog once a month.
We hope you enjoy getting a glimpse at other readers shelves and we invite you to share yours!
If you would like to feature your shelves on our blog please email me lisa@onceuponachapter.com.
If you do participate and also run a blog, you will have this lovely button to display with a link back to your post at Once Upon A Chapter! Pretty cool, right?

This week we are featuring the shelves of
Barbara from Happily Forever After!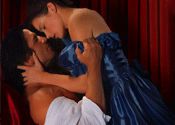 Books A – C
Books D – H
Books H -J
Books K – M
Lisa Kleypas Collection
Books M – P
Books P, Q & R
Books A – P
The Native American Romances
Trade Size Books
My Autographed Book Collection
Autographed Books Row Two
Trade Size Autographed
Thanks Barbara for showing your shelves at Once Upon A Chapter!