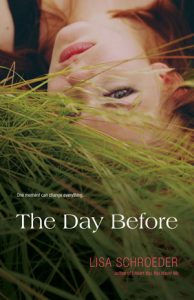 The Day Before by Lisa Schroeder
Also by this author: The Day Before
Published by Simon Pulse
Genres: Young Adult
Format: Paperback
Read in: April 2011
Add to: Goodreads

One moment can change everything.

Amber's life is spinning out of control. All she wants is to turn up the volume on her iPod until all of the demands of family and friends fade away. So she sneaks off to the beach to spend a day by herself.

Then Amber meets Cade. Their attraction is instant, and Amber can tell he's also looking for an escape. Together they decide to share a perfect day: no pasts, no fears, no regrets.

The more time that Amber spends with Cade, the more she is drawn to him. And the more she's troubled by his darkness. Because Cade is not just living in the now; he's living each moment like it's his last.
Amber has one day before her life changes forever, which brings up the question what do you do the day before? Amber decides that for her last day she is going to get away from all of her family and friends by going to a beach in Newport. She has planned a day full of relaxation to get away from the struggles of her every day life, today she simply doesn't want to be sad or cry. She starts off her journey by going to check out the local aquarium.
At the aquarium she meets a good looking guy at the jelly fish tank. They slowly get to talking and Amber finds out his name is Cade, they instantly decide to check out the rest of the aquarium together. When their journey at the aquarium is over they both promise each other that they will not ask why the other person is ditching their life for the day. Upon agreeing they set out for a day full of adventures but pasts will be relieved over the course of the day. These two will begin to realize just how much they need another person to share their story with because both of them are having their last day before their lives change.
Overall what I really have to say about this book is just wow! I have never read a book written in prose before so I was a little skeptical about this book. However, as soon as I started to read the book I could not put it down! I read the book in a little over an hour and I swear by the end of that hour I was almost in tears (which I consider a good thing when books are that powerful). There may not be many words in this 300 page book but the two strong messages are loud and clear and I feel they perfectly represent how life goes sometimes. Some days you just have to put it all out there and hope for the best, take the good with the bad. If there were no bad times then people wouldn't be able to fully appreciate the good times. Basically if you are tired of hearing me gush about this story the overall simple version is I loved this book and I give it 5 stars. This is a keeper book through and through so make sure to pick up a copy this summer when it comes out.