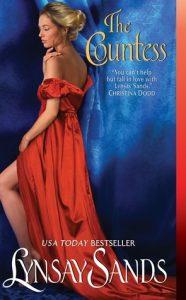 The Countess by Lynsay Sands
Also by this author: Born to Bite, Hungry for You
Series: Madison Sisters #1
Published by Avon
Genres: Historical Romance
Format: Paperback
Read in: March 2011
Add to: Goodreads

THE FAIRY TALE COURTSHIP DID NOT TURN INTO A HAPPILY-EVER-AFTER ...

Not until her husband dropped dead, that is. He had been horrible enough to Christiana during their short marriage, and she was not going to allow the traditional period of mourning to ruin her sisters' debuts as well. So she decides to put him on ice and go on as if nothing's happened ...

Until the real earl appears. Richard Fairgrave had every intention of confronting his villainous twin who had robbed him of his name and title ... only to discover that he had died. Quietly assuming his identity, Richard must now deal with a maddening desire for his ravishing inherited wife --- certainly a gold digger and possibly a murderess. And Christiana must deal with an unwanted new husband ... and they both must figure out what to do before the ice melts.
The story starts out with Christiana in a sour marriage with Dicky, her husband of only a year. At every turn she is constantly aware of acting in a manner that will please Dicky, however nothing will please this man she is married to. You see she wouldn't be married to him if her father had gambled away a large sum of money and owed the gambling hall money. Christiana wants nothing more than to get out of her marriage but she fears Dicky above all else, so it is a surprise when she goes looking for him in his office and finds him dead. Now that Dicky is dead Chrissy can finally live her life the way she has always wanted, or so she thinks until she sees Dicky show up at the ball she is attending.
What Chrissy doesn't know is that the man who has shown up at the ball is not Dicky but Richard, who just so happens to be the real Dicky. Yes, things get complicated from here on out as secrets keep piling up and no one really knows the whole story. The events of the story takes many turns as Richard slowly lets it be known that this man Dicky was really his twin brother George out to take his title away from him. Richard lets Chrissy know that he plans on marrying her to make everything legal just so her family can escape a scandal. The only problem is Chrissy was just on the verge of having total freedom, now she must submit to a husband once again and Chrissy is not sure if she will be able to trust Richard after the way Dicky, who is really George, treated her.
I did enjoy the whole cast of characters from Christiana, her sisters, her friend Robert, and of course Richard and his friend Daniel. They all made a great cast and each one felt unique in their own way. It is easy to get wrapped up in the story because I believe everyone can relate to the fact that some relationships just don't go as planned and that sometimes that makes a person not want to date or marry again. I feel this was a great story about rising up to realize that love can still be found even when one feels they will never love again. Richard did a great job at winning over Christiana and I enjoyed watching the struggle to fall in love again when it didn't go well the first time for Christiana.
Overall this was a good story that had many interesting plot twists. the mystery always kept you going because you had really no idea who killed Dicky/George and who might now be out to kill Richard thinking he is his brother George. The love story was also something that sucked me in from the beginning and believe me I was cheering when Dicky/George was found dead. Overall between the great cast of characters, the plot that keeps the reader guessing with so many twists I would have to give this book 4.5. This was my first Lynsay Sands book and I have to say it will certainly not be my last.