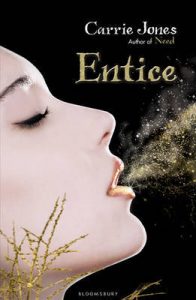 Entice by Carrie Jones
Also by this author: Need, Captivate
Series: Need #3
Also in this series: Need, Captivate
Published by Bloomsbury
Genres: Young Adult
Format: Hardcover
Read in: March 2011
Add to: Goodreads

Zara and Nick are soul mates, meant to be together for ever. But that's not quite how things have worked out. For starters, Nick has gone. He has been taken to the mythical place for warriors known as Valhalla. Zara and her friends might be able to get him back, it's just not going to be easy. Meanwhile a group of evil pixies is devastating Bedford, with more teens going missing every day. An all-out war seems imminent, and the good guys need all the warriors they can find. But even if Zara and her friends do discover the route to Valhalla, there's that other small problem: Zara's been pixie kissed. When she finds Nick, will he even want to go with her? Especially since she hasn't turned into just any pixie... She's Astley's queen.
So this is the third book in the Need Series so at this point all of the characters are established and each has come into their own. We start the story off knowing that Nick has almost died and that he has been taken to Valhalla. Valhalla is the gods area where they keep warriors that they have saved from death in order to help with this all out war (end of the world) that is suppose to happen soon. We also know at this point that Zara has turned into a pixie, a queen pixie actually so that she is strong enough to save Nick. The problem is that she is Astley's queen and there are many secrets that she doesn't know about him, can she trust him is a huge question in this story.
Astley and Zara start on the quest to find out how to get to Valhalla to save Nick. Each time they travel they gain more pieces of the puzzle and they feel that they are getting closer to the rescue which is great news. Things start to go off the charts though when Astley is keeping secrets and all of these leads start conflicting with each other and nothing seems to be working out right. In the background the evil pixies are still taking boys from the town and killing them because they have the "need", so at this point there is about two different stories going on.
Honestly, I did enjoy the first book in this series because I liked this idea of evil pixies and I thought it was a little bit of a darker paranormal story and I surprisingly liked that. With the second book I was still interested because the focus was still on the pixies and how they were evil but when the god/valhalla thing came into play I was starting to get skeptical about where this series was heading. I had to continue on though because I needed to know if Nick was still alive and if Zara was going to be able to save him. So I mean there is good backstory but I feel the bottom fell out in Entice. The beginning, well actully 3/4th of the book was mostly just boring backstory that wasn't all that important in my opinion. It isn't until the last 75 pages that the story picks up because Zara must go to Valhalla to get Nick and fight for his life.
Overall I found most of this story to bore me to the point I almost completely put it down. Don't get me wrong I do love stories that explore gods and myths and all of that stuff but I feel that the story has just taken drastic turns from where we originally started. I find that this is happening a lot with YA books especially the paranormal kind. It is almost as if the authors get bored half way through or they decide they like other paranormal creatures better so they change the story. Starting with evil pixies and ending with stories of gods and not really explaining the complex pixie society didn't really work for me. I feel that Carrie Jones needs to go back and explain the pixie life better since Zara is now a pixie, plus I feel the characters are completely different than they first where. Yes, they did grow up but Dev has become a bit of a jerk, Cassidy has healing powers all of sudden, and Is freaks out over everything to the point that it is annoying. I just feel the whole world of this storyline has gotten out of control and off track. I'm still going to read the fourth book because I'm hoping that Carrie pulls the story back together so that it all flows easily again.