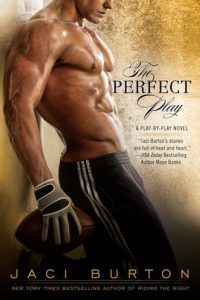 The Perfect Play by Jaci Burton
Series: Play by Play #1
Published by Berkley
Format: Paperback
Read in: February 2011
Add to: Goodreads

Football pro Mick Riley is an all-star, both on the field and in the bedroom. But a sexy, determinedly single mom just might be the one to throw him off his game...

For years Mick has been taking full advantage of the life available to a pro athlete: fame, fortune, and a different girl in every city. But when he meets and beds confident, beautiful event planner Tara Lincoln, he wants much more than the typical one-night stand. Too bad Tara's not interested in getting to know football's most notorious playboy any better.

As the single mother of a teenage son, the last thing Tara needs is the jet-set lifestyle of Mick Riley; even though their steamy and passionate one-night stand was unforgettable. Tara's life is complicated enough without being thrust into the spotlight as Mick's latest girl du jour. Tara played the game of love once and lost big, and she doesn't intend to put herself out there again, especially with a heartbreaker like Mick.

But when Mick sets his mind to win, nothing will stop him. And he has the perfect play in mind.


Tara is a 30 year old mother who has always put her son first in her life. She had her 14 year old son Nathan when she was only 16 years and there is not a day that goes by that she lives her life fully for herself. She did manage to overcome adversity and start her own successful business as an event planner inbetween being a single parent to Nathan. Tara was just doing her job, running a great event for an NFL football team when she meets the star quarterback. Mick is delicious (obviously view cover) but he is known as being a guy who will sleep around with whoever is hot in Hollywood at the time.

When the story started out we start out with Tara and Mick meeting and deciding to have sex together. I'm not really a person who encourages one night stands but hey this is just fiction. After they have sex for the first time Tara starts to push Mick away a little because she does have a normal life that she needs to get back too. No matter how hard Tara tries to keep away from Mick he always just seems to keep coming back for more. Even going so far as to meet Nathan and get close with him.

After this initial phase wore off I was getting worn down. I do not think I have ever made this complaint about a book before but the middle of this book just had too much sex. I am by no way a prude, I have read my share of very erotic books but the sex in this book was lacking. It was missing that sensuality and it just seemed like it wasn't very true to the characters or real world situations for that matter. It was just bunches of quick scenes over and over and there was no change and the characters seemed to be stalling. Eventually the storyline did get back on track with some minor drama situations to keep the reader interested and guessing.

Overall I would give this book 4 stars. I honestly didn't think I was going to like this book much until the ending started to pull on my heartstrings. I really did fall for the characters, once they got over their little love fest. It was great to watch the main characters fall for each other even though neither of them ever expected it. I did enjoy the secondary characters as well and I can not wait to read the second book in this series about Mick's younger brother Gavin, which comes out in Aug of this year. My only hope is that Gavin's story has some more steam to the sex scenes with some more character development.