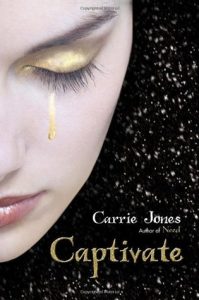 Captivate by Carrie Jones
Also by this author: Need, Entice
Series: Need #2
Also in this series: Need, Entice
Published by Bloomsbury
Genres: Young Adult
Format: Hardcover
Read in: February 2011
Add to: Goodreads

He smiles. It's a wicked smile. Kind but not kind. Handsome but dangerous. Feral almost. I can see why Nick nearly killed him, Nick...
I ask again, "Why were you in the road?"
"I was waiting for you."

Zara and her friends thought they'd solved the pixie problem. And they did - sort of. The pixie's are all locked away, deep in the woods. But the king's needs grow stronger each day that he is in captivity, while his control over his people weakens. And it's enough to draw a new king into town. Astley claims he is different. He claims there are pixies who can live peacefully with humans, that it doesn't have to be all violence and nastiness all the time. Zara wants to believe him...until Astley also claims that she is fated to be his queen.

There is no way Zara would ever turn pixie. And she's got good friends who will make sure of that. Besides, she and Nick are so in love they're practically inseparable. But when they very thing Zara wants to protect most is exactly what's at risk, she is forced to make choices she never imagined....
The first book in this series, Need, didn't leave on a cliffhanger so going into this book I didn't know what to expect. I was glad to see some action right off the bat since new Kings are coming to town to try to take Zara's dad's spot as King of the Bedford Maine area. This brings whole new pixies onto the playing field and Zara's first encounter with a pixie since locking away her father is with one of these new Kings named Astley. Zara saves him from having to go to Valhalla with a winged woman. Little does she know just how important Valhalla is going to become.
As the battle for the old Kings position rages on Zara tries to have as normal of a life as humanly possible. Her whole world is turned upside down when she must battle with an evil King and faces the possiblity that one of the gang might get seriously hurt. Zara also starts to learn with the help of Astley that not all pixies are bad. Can Zara figure out who are the evil pixies and who are the good pixies in time for a huge battle that has been prophesized since 800 BC?
I did like that in this book we are introduced to some new characters and of course we get to see a love triangle forming in this book between Nick, Zara and Astley. This was a relief because the whole Zara and Nick thing was getting on my nerves just a little because they are almost too perfect together. I also liked the new character of Cassidy catching Devyn's interest and that we didn't know who she was for most of the book until the end. The end of the book will leave you on a cliffhanger dying for more.
Overall I thought the writing in this book was much improved over the first book Need. The writing was much easier to read and I liked that things got spiced up a little with the new Kings battling it out not only for the land but for Zara. The love triangle is interesting and I can't wait to read Entice to see how things are going to pan out for the gang. One thing that I did not like about the story was that by the end we just have way too many mythical beings present in the story. With weres, pixies and now the other mythical beings it is becoming a bit overload. Hopefully Entice will tone down all of the mythical creatures a bit so that it becomes more manageable.