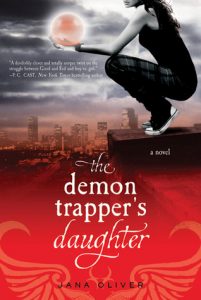 The Demon Trapper's Daughter
by
Jana Oliver
Series:
Demon Trappers #1
Published by
St. Martin's Press
Genres:
Young Adult
Format:
Paperback
Read in:
January 2011
Add to:
Goodreads
The Demon Trapper's Daughter is the first novel in Jana Oliver's Demon Trappers—a spellbinding young adult fantasy series. Riley Blackthorne just needs a chance to prove herself—and that's exactly what the demons are counting on…

Seventeen-year-old Riley, the only daughter of legendary Demon Trapper Paul Blackthorne, has always dreamed of following in her father's footsteps. The good news is, with human society seriously disrupted by economic upheaval and Lucifer increasing the number of demons in all major cities, Atlanta's local Trappers' Guild needs all the help they can get—even from a girl. When she's not keeping up with her homework or trying to manage her growing crush on fellow apprentice, Simon, Riley's out saving distressed citizens from foul-mouthed little devils—Grade One Hellspawn only, of course, per the strict rules of the Guild. Life's about as normal as can be for the average demon-trapping teen.

But then a Grade Five Geo-Fiend crashes Riley's routine assignment at a library, jeopardizing her life and her chosen livelihood.  And, as if that wasn't bad enough, sudden tragedy strikes the Trappers' Guild, spinning Riley down a more dangerous path than she ever could have imagined. As her whole world crashes down around her, who can Riley trust with her heart—and her life?
Riley is just a normal teen trying to live her life and help her dad make ends meat as much as possible. Her mother had passed away a few years before and her father is buried in medical bills. Riley's dad just happens to be a great demon trapper though. The Blackthorne name is known by all, even the demons are starting to call out to Riley when they see her. These demons shouldn't actually be aware of who Riley is but they seem to know her even though she is just starting her demon trapper career. To make matters worse the other trappers are not very happy to have Riley as part of the team, no girl has ever been allowed to become a trapper before. This is an unsettling thought to have everyone, even the demons, against you when you are just starting out. With the help of Beck, her dad's demon trapping partner, and Simon, her sweet boy next door crush, Riley will have to pull together to fight the demons that have taken everything away from her.
Where do I even begin with this story, the beginning had me hooked because I have always enjoyed stories where the girl is set up to lose but is pulling through to show men that women can handle just as much as they can. So basically Riley starts off this kick-ass girl that anyone would start to side with. Along the way we meet Beck, Simon, Paul, and several demon trappers who really bring this story to life. The book is told in a way that is great for older teens to read because there are some serious themes going on throughout the story, including jokes that older teens and adults would better understand.
Now here is where I meet a huge road block in the story's plot. Yes, Riley is a demon trapper which means we are going to get the heaven and hell talk but honestly I think it went way too far. Not only do we get the heaven and hell story we get constant prayers to God in the story and our male love interest is very intense in his faith in all things good and holy. Flat out I'm not at all religious but I can usually handle hearing a little bit about it but at certain points this book just took it way too far. At times the story feels like a preach about God and believing that he will help and angels and how demons are evil and to avoid any temptation. Ugh is my thought about the over indulgence in the topic of God.
After trying so hard for chapters and chapters, pages after pages of the words of God I was able to mostly put that aside and start to enjoy the actual storyline. Once one is paying attention to the action going on in the book one will realize that there is not much point. There are a lot of secrets throughout the book that will leave you reading just to figure them out, by the end we don't really have much of an answer other than hey stick around for book two.
Overall I loved some of the characters in this book, they really were what kept me reading all the way till the end. Beck in particular is my favorite, he has his slow country ways to fool people into thinking he has no clue what he is doing. However, he is there for Riley all the time even when she doesn't think she needs his help. He is a great character and if you read this book for any reason he is it. Infact, he might be the only reason that I might just pick up the second book when it does come out. I would say I'm very much on the fence about this book, some of the characters and their strong relationships were great to read about but some of the storyline dragged for me.