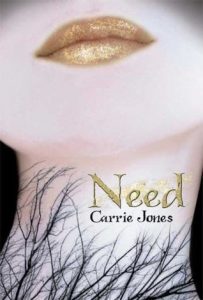 Need
by
Carrie Jones
Also by this author:
Captivate
,
Entice
Series:
Need #1
Also in this series:
Captivate
,
Entice
Published by
Bloomsbury
Genres:
Young Adult
Format:
Hardcover
Read in:
January 2011
Add to:
Goodreads
Pain shoots through my head. Fireworks. Explosions. All inside my brain. The white world goes dark and I know what's about to happen.

Zara White suspects there's a freaky guy semi-stalking her. She's also obsessed with phobias. And it's true, she hasn't exactly been herself since her stepfather died. But exiling her to shivery Maine to live with her grandmother? That seems a bit extreme. The move is supposed to help her stay sane...but Zara's pretty sure her mom just can't deal with her right now.

She couldn't be more wrong. Turns out the semi-stalker is not a figment of Zara's overactive imagination. In fact, he's still following her, leaving behind an eerie trail of gold dust. There's something not right - not human - in this sleepy Maine town, and all signs point to Zara.

In this creepy, compelling breakout novel, Carrie Jones delivers romance, suspense, and a creature you never thought you'd have to fear.
After Zara's stepfather dies she is sent to live in Maine with her Gram. When she arrives in this new place she is a bit out of her element, this new place is so cold and it is also full of secrets. While one man keeps following her, Zara also has to deal with two boys taking an interest in her. Ian is the overachiever who wants to help Zara fit in at a new school. Nick is the hot bad boy at school who tires to keep his distance from Zara, yet he is always there to save her.
This story starts a little slow but soon the story grabbed by attention with these mysterious two boys and the mysterious dealings going on in Maine. Zara although she has her fears she is strong in her own unique way. Watching her try to figure out just who Ian and Nick are is a big part of the beginning of the storyline. With the help of Devyn and Is, Zara will start to figure out the strange things that keep happening in the town. Such as why boys keep disappearing and why everyone keeps finding gold dust in the woods surrounding Zara's home.
This story will shock you in parts as you begin to wonder just who Zara's biological father really is. Also we begin to wonder just why Zara's mom sent her to live with her Gram and what is her mom hiding from. The romance between Zara and Nick will draw you in. The romance was the right combination and for me it really worked out well. I loved learning about all the different types of creatures in this book and the pixie's history. These pixies are a dangerous bunch who will not stop until they get exactly what they want, their queen.
Overall I would give this story 4 stars, it was going to be 4.5 stars but the writing at times could've used some more editing and I wanted some of the conflicts in the story to last longer. Also the story reads a little like Twilight in the beginning and although that was a great book we don't need copy-cats of it. The dark elements in this book really drew me into the story but those dark moments were quickly turned to light. I would have loved to see a bit more of the darker sides of the book last longer. I did like the story though and I am looking forward to reading the rest of the series.