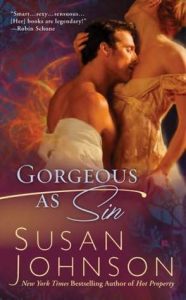 Gorgeous as Sin by Susan Johnson
Series: Bruton Street Bookstore #1
Published by Berkley
Genres: Historical Romance
Format: Paperback
Read in: January 2011
Add to: Goodreads

FROM ONE OF THE BEST-KNOWN NAMES IN EROTIC ROMANCE COMES THE FIRST SIZZLING NEW HISTORICAL-ROMANCE TRILOGY STARRING A HEADSTRONG WOMAN AND THE HANDSOME RAKE DETERMINED TO BRING HER SULTRY SIDE ...

Fitz Monckton, Duke of Groveland, has never encountered a woman he could not seduce --- until he clashes with the beautiful Rosalind St. Vincent, whose bookshop sits in the way of Fitz's lucrative development deal.

Left nearly penniless because of her late husband's gambling debts, Rosalind has managed to save her bookshop by dint of hard work and through a foray into a slightly irregular endeavor. She has no intention of selling her shop to satisfy the whim of an entitled scoundrel --- even if said scoundrel is gorgeous as sin.

If money won't entice Rosalind to sell her shop, Fitz must tempt her in other ways --- hopefully mutually pleasurable ways profitable to them both. As for the lady's obstinate resistance, that will only make her inevitable surrender all the sweeter ...
Fitz who is the Duke of Groverland wants to desperately see his new project build. He wants to build on property that was all recently owned by shop owners, one by one they all sold their shops to Fitz so he could rebuild in the area. There is one person standing in his way with a little corner bookstore. Rosalind owns said bookstore and she is very unwilling to sell, for her it is not about the money but what she does for the community with her little bookstore. After Fitz's men have had several failed attempts at gaining her store from her Fitz decides to take matters into his own hands. Fitz has never met a women who he couldn't easily get his way with but the quick tempered Rosalind is going to show him just who is the boss, spoiled rich boys must not always be able to get their way no matter how good looking they are.
This story started out a little rough for me and I almost put it down. At the beginning the story was a little hard to understand, the writing although filled with beautiful word usage was just too much for me. Not every little thing needed to be described in such long fluffy language. I know that the style of writing fit the time period since this is a historical romance but it felt like work reading it. The first steamy scene between the main couple was just filled with so many words and frankly I was losing patience.
Then suddenly I don't know what happened but the writing got much easier to read, it became much more enjoyable. Honestly, I read textbooks for school all day so at night I'm looking for an easier read and finally this historical romance was becoming the cute easier read that I was expecting. I did like the characters when they were having their witty back and forth rival over who would end up with the bookstore. I have always enjoyed when the characters are sarcastic and strong and can keep up with each other. It made for a great dynamic between the characters.
Overall I really did enjoy the characters although sometimes I felt they almost did a 180 in their emotions. The storyline was rather predictable but most romance stories are. In the end I did end up liking the storyline and I was happy for the way the book ended even if I did see it coming.