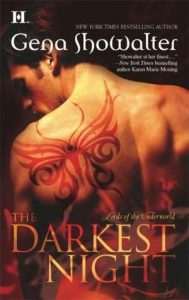 The Darkest Night by Gena Showalter
Also by this author: The Darkest Passion
Series: Lords of the Underworld #1
Also in this series: The Darkest Passion
Published by HQN
Genres: Paranormal Romance
Format: Paperback
Read in: December 2010
Add to: Goodreads

His powers - Inhuman...

His passion - Beyond immortal...

All her life, Ashlyn Darrow has been tormented by voices from the past. To end the nightmare, she has come to Budapest seeking help from men rumored to have supernatural abilities, not knowing she'll be swept into the arms of Maddox, their most dangerous member -- a man trapped in a hell of his own.

Neither can resist the instant hunger than calms their torments... and ignites an irresistible passion. But every heated touch and burning kiss will edge them closer to destruction -- and a soul-shattering test of love...
Though they carry an eternal curse, the Lords of the Underworld are irresistibly seductive -- and unimaginably powerful...

I honestly have no clue why I put off reading these books for practically a whole year. I have always enjoyed JR Ward's Black Dagger Brotherhood series and I loved the book Fantasy Lover by Sherrilyn Kenyon for it's use of the greek gods. I thought this was a good combination of the two with the whole Pandora's Box story thrown in.
The story centers around out leading man and woman, Maddox and Ashlyn. Maddox, like all the other Lords of the Underworld possesses a demon inside of him. His demon is Violence and it is very hard for him to control. Ashlyn works for an institute that wants to study paranormal creatures to save the humans from evil, her power is that she can hear the voices of any conversation that has taken place no matter where she is or how old the conversation. Maddox is sent out into the woods that surround his home in order to look for intruders and stumbles upon Ashlyn. The moment Ashlyn is within distance of Maddox all of the voices in her head quiet and she has finally reached peace. Maddox is suspicious of Ashlyn thinking she is bait for the Hunters but he is running out of time because he has to be home at midnight so he can die, just like he has done everynight since he killed Pandora.
After meeting the couple slowly gets to know each other, at the same time we start to learn about all of the other Lords that live in the same house as Maddox. At this point it becomes a lot of backstory to read because you have to try to learn each one of the names and what demon they possess. We see the adventures that are happening due to the new gods, the titans, and some trouble arises from some old friends of the Lords which you won't want to miss. You get your action story with romance and gods all in one which I found to be very interesting. I don't want to spoil the story so you can pick the book up and find out what great adventures happen to Maddox, Ashlyn, and the rest of the Lords.
Overall, I thought the concept was great but there was a few flaws in it for me. Since this was the first book there was a lot of new faces to memorize. This is added to when the 7 or so characters that you now know are added to with the arrival of another 5 or so characters. Another down side was it seems that the conflict with Ashlyn was always the same, lets just say she gets sick a little too much for me to believe. Gena does set the story up for the next book nicely and I can't wait to read more of the Lords' stories now that I know a lot of the background information.