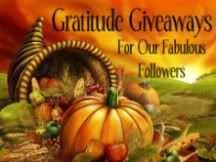 I hope all of you are having fun visiting the over 175 blogs that are part of this great giveaway.
I want to say a big thank you to all of you who are stopping by this week to check out
my blog and my giveaway!
This giveaway will run from today, November 17th, until 11:59pm November 28th.
Now on to the part all of you are waiting for…
I'm going to be giving away one brand new copy of
I have heard great things about this book and I'm dying to read it just like most of you are.
This book has a release date of November 30th so even though it is not out yet it will be out by the time the giveaway is over and I have had the time to count up all the entries and pick a winner.
RULES:
1. You MUST be a follower of this blog in order to be entered to win.
2. You must be 13 years of age or older and have a vaild US mailing address.
3. This giveaway is US ONLY as I'm a college student and can't afford the shipping overseas. I'm sorry international readers, I hope to have giveaways in the future that are for everyone.
4. I am only giving away one copy of Matched by Ally Condie so there will only be one winner.
HOW TO ENTER:
Become a follower of Pages of Forbidden Love and leave a comment with a vaild email address. This is good for one entry.
Additional Entries (Please keep all entries in one comment):
~ +1 Add my blog button to your blog/site and leave the link in your original comment.
~ +1 Add this giveaway to your blog/site sidebar and leave the link in your original comment.
If you are uncomfortable leaving your email address in a comment then please email your entry to me at apk1princess (at) live (dot) com
The winner will be announced on my blog on December 5th. I will contact the winner in an email and they will have 48 hours to respond with their mailing address otherwise a new winner will be chosen.
*I am not responsible for the book getting lost or damaged in the mail. I will be ordering this book from Barnes and Noble so I am not responsible for any damage they cause during shippping. Thank you.
Thank you for stopping by and don't forget to check out the other great blogs listed below.