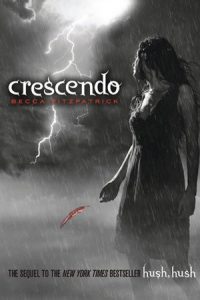 Crescendo by Becca Fitzpatrick
Also by this author: Hush, Hush
Series: Hush, Hush #2
Also in this series: Hush, Hush
Published by Simon & Schuster Books for Young Readers
Genres: Young Adult
Format: Hardcover
Read in: October 2010
Add to: Goodreads

Nora Grey's life is still far from perfect. Surviving an attempt on her life wasn't pleasant, but at least she got a guardian angel out of it. A mysterious, magnetic, gorgeous guardian angel. But despite his role in her life, Patch has been acting anything but angelic. He's more elusive than ever (if that's possible) and what's worse, he seems to be spending time with Nora's archenemy, Marcie Millar.

Nora would have hardly noticed Scott Parnell, an old family friend who has moved back to town, if Patch hadn't been acting so distant. Even with Scott's totally infuriating attitude, Nora finds herself drawn to him - despite her lingering feelings that he is hiding something.

If that weren't enough, Nora is haunted by images of her murdered father, and comes to question whether her Nephilim bloodline has anything to do with his death. Desperate to figure out what happened, she puts herself in increasingly dangerous situations to get the answer. But maybe some things are better left buried, because the truth could destroy everything - and everyone - she trusts.
So I recently read Hush Hush a few weeks ago and thought it was a great read. I was so excited that Barnes and Noble was offering up sneak peaks of this book on their site so I got an ARC, my first ever btw. Upon getting the book I just had to start it, I got past the first chapter and had to put it down. I couldn't bring myself to pick up the book again for several days because I felt it reflected some things that happened in the Twilight Series by Meyer.
Eventually I had to pick back up the book because the discussion was going to take place on Barnes and Nobles' site. Once I got past my first reaction I slowly started to get into the book and back into the world created in Hush, Hush. New characters were introduced and we got to learn more about the exsisting characters. I want to keep this as spoiler free as possible so I'm not going to tell you much.
I did admire how Becca can keep you guessing all the way through the book. I felt that the mystery in this book was better than the one in Hush, Hush. I just love trying to figure out all the twists and turns, some are easy and some keep you guessing till the end. I find it great when an author can keep you on your toes and the ending can be a fun surprise for anyone reading it. Trust me as soon as you finish Crescendo you will be dying to read book three in this series.
I have to say that I love how the series is a mix between romance, suspense, and mystery. Overall Crescendo had more mystery than Hush, Hush but it was lacking in the romance area this time around.