How many of us love to stand in a bookstore and just stare at all the gorgeous book covers? Go on raise your hand you know you do! But we aren't supposed to judge a book by it's cover. A really pretty cover; however, can drag us in all the same. We'll be picking out some of our favorite covers and displaying them here for you. To be honest, we may not know whether or not the book is any good but if the cover is anything to go by…..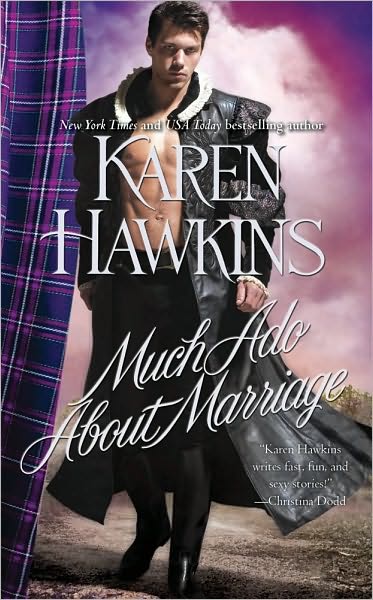 Book Description from Barnes & Noble:
Fearless English earl Thomas Wentworth scoffs at failure, trusting in the legendary Wentworth luck to safeguard his spy mission to Scotland. But a single encounter with saucy Scotswoman Fia Maclean turns Thomas's mission topsy-turvy. All-too-innocently entangling him in his enemy's trap, the beautiful Fia gives Thomas no escape but to marry her. But Thomas doesn't know just what he's marrying into. With an ancient amulet in Fia's possession, she wields even more power than her sharp tongue and quick wit. Her cousin, Douglas Maclean stole the magical amulet from the White Witch, Maeve Hurst, and gave it to Fia for safekeeping. But now, with Fia in London with Thomas, the amulet falls into the hands of Queen Elizabeth. Thinking it will be safe in the queen's hands, Fia leaves it be and focuses on bedeviling her newly betrothed!
Lisa's Thoughts: Hmmm…One hunky Englishman + a long leather coat + the half naked torso + a few sinfully sexy colors = One Sexy Cover! I just adore this cover! The purple hues from the plaid are gorgeous and blend beautifully into a sky that hints at a ferocious storm. Not only are the colors very appealing to the eye…but so is the hunky model! His facial expression is as stunning as the angry sky behind him. It hints at strength, and one of the most attractive qualities for any historical romance hero – a possessive streak a mile long. He's in mid stride, coat gently blowing in the wind behind him, with eyes that could burn through to your soul. The damsel he has his sights on better watch out, because there is only one word he's speaking with that body language…Mine.
Good grief, someone catch me before I faint!