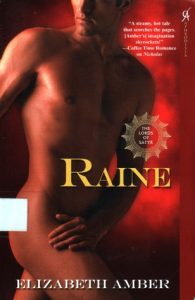 Raine by Elizabeth Amber
Series: Lords of Satyr #2
Published by Aphrodisia
Genres: Adult, Erotica
Pages: 313
Format: Paperback
Read in: August 2010
Source: Personal Collection
Add to: Goodreads

AS A LOVER, HIS SKILLS ARE LEGENDARY...

The middle brother, Raine, both sensual and stoic. Scarred by once taking a wife who could not accept his carnal needs, he wants no part in another marriage. But duty commands that he fulfill his promise to wed King Feydon's second daughter, Jordan...

BUT IN MATTERS OF THE HEART, HE HAS MUCH TO LEARN...

The loyal satyr begins a search that leads him to Tuscany to romantic Venice, where his beautiful bride awaits, unaware of what passionate delights fate has planned for her. Raine is careful not to reveal his powerful satyr sexuality, for fear of driving yet another woman away. But unbeknown to him, Jordan is no ordinary woman and was born with an insatiable appetite for love. And as Raine's heart begins to melt for her, how long will he be able to to hide his true nature when Jordan seems to want him so fiercely? - via GoodReads
First off let me say caution, this book is NOT for the faint of heart.
The Lords of Satyr have a unique bloodline from Elseworld and they have special "powers". Theses three Lords protect the barrier between Elseworld and the human world so that an all out war does not happen between the two worlds. The Lords have a simple life taking care of their vineyard in Tuscany until the Faerie King sends the Lords a letter saying he sired three half faerie-half human daughters onto three different human women. These three daughters are in danger from Elseworld problems and each daughter needs to be bedded and wed to a Satyr Lord. Each Lord must now set out in order to save one of the daughters from danger. In the first book Nicholas by Elizabeth Amber the first Lord sets out to save the first daughter of the dying King. He saves that daughter and makes her his bride, thereby protecting her from harm with his magical Satyr blood and bonds. With one of the daughters being saved, this great task is now the second Lord's duty.
This second book starts off in Venice where the main male character, the second Satyr Lord, Raine, is out to find his faerie bride. He first sees her when he accidentally goes to the wrong lecture hall and notices the second faerie daughter, Jordan, onstage as a medical experiment. Through a chain of events he meets Jordan and rescues her and heads back to Satyr land in Tuscany. In Tuscany Raine can start to weave his protective bonds around Jordan like the King wanted. Part of these bonds include some love scenes that can only be described in one word, Hot!
The beginning of the story was a lot to take in and almost put me off of the book with the gay priest taking a male prostitute in an alleyway.
Also by finding out that Jordan is a hermaphrodite, hence the reason for being a medical experiment, and has been living as a male for most of her life until she meets Raine. The sex scenes are unusual with the special qualities of the Satyr men and due to the fact that Jordan has both sex organs. The climax of the book was lacking and the ending of this story wrapped up everything in a clean neat little bow. The ending was abrupt and it felt like there was only a small role of a villain, the man who used Jordan as a medical experiment, involved. Everything was just rushed through in order to get to the HEA (happily ever after).